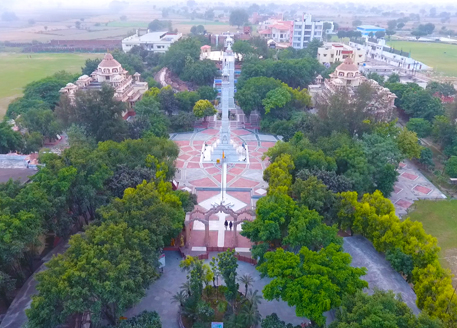 'Teerthdham Mangalayatan' is a Jain pilgrimage complex, promoted and developed by Shri Adinath Kund-KundKahan Digamber Jain Trust, at Aligarh, India. It is not just a group of temples, it is actually the realization of a broad socio-religious concept that encompasses devotion, social service, education and socio-religious research activities.
The temple-cum-research complex is situated on the Agra Road (Aligarh-Agra Highway), at a distance of around 13 kilometres from Aligarh and spans over an area of 16 Acres. The Temple complex includes 5 temples within the complex area:
Bhagvan Aadinath Mandir
Bhagvan Mahaveer Mandir
Bhagvan Bahubhali Mandir
Manstambh Mandir
Jinvani Mandir
Prime Attraction
A unique man-made hill called KailashParvat on which Bhagwan Aadinath resides. Several pilgrimage sites including Sammedshikhar, Girnargiri, Champapuri, Pavapuri, Sonagiri and Songarh are also situated.
Bhagwan Mahavir Temple encrypted with Samaysaar on its walls.
Bhagwan Bahubali Temple encrypted with Moksha marg Prakashak and Chahdhaala.
Pandit Daulatram Jinvaani Templeand preservation of old sacred Jain literature.
Acharya Samant bhadra Meditation Centre.
Pt. Kailsh Chanda Pravchan Mandap
Dhanya Munidasha – Glimpses of Ascetic life of Jain Munis.
Bhagwan Shri Aadinath Student's Hostel.